Salesloop vs OctopusCRM: Which is the Best LinkedIn Automation Tool for Sales Prospecting?
B2B prospecting is a complicated and complex stage of sales cycles. Truth be told, It can be difficult to gain the attention of B2B buyers, build relationships, and create sales opportunities.
Before now, sales prospecting involved cold calling, coffee meetings, networking events, and even direct mailing. However, in today's world, over two-thirds (68%) of B2B buyers now make their buying decision online.
Social networks like LinkedIn are changing the way companies maximize reach, find prospects, and deliver content to the right audience. If you can personalize your requests, content, and outreaches, LinkedIn would be a "professional coffee shop" where you can have real-time engagement with targeted leads across any industry.
Moreso, Linkedin is a more effective lead generation tool than Twitter or Facebook by 277%. No wonder B2B marketers say that 80% of their leads acquired via social come from LinkedIn. With a few clicks, you can find a list of CEOs in fintech companies around San Francisco that have 1000-5000 employees.
However, as the platform remains the go-to search engine for professionals and B2B leads, it's also becoming harder to manually manage lead generation campaigns on LinkedIn. We're talking about a robust application that sorts a tonne of data points and allows you to connect with dozens of prospects daily.
This is why LinkedIn automation tools have become popular. Although many people use spreadsheets for some form of organization and monitoring, automation tools like Salesloop and OctopusCRM are better tools that help you to automate your prospecting efforts at scale. These LinkedIn automation CRMs make it easier to send connection requests, follow-up messages, track open rates, and other important campaign metrics.
Why Linkedin automation?
With a huge audience of over 660 million users, LinkedIn has to categorize, analyze, and tag so much data. That is why it's slow and boring to connect with leads manually.
If you want to send out 50-60 connection requests manually, it would take you hours of work to research, create personalized content, and keep track in a spreadsheet. However, when you're looking to connect with 5-6 prospects on LinkedIn, it's easy to visit their profiles, send connection requests, and even follow-ups.
But if you want to use LinkedIn for sales prospecting at scale, you need a seamless LinkedIn strategy. With LinkedIn automation, you can reduce time-consuming manual tasks, automate repetitive processes, and save valuable hours that can be used for other core ROI activities.
These automation tools make it easier to automatically connect with prospects, deliver content, increase profile views and messages, and skyrocket the number of leads in your sales pipeline.
Choosing a Linkedin automation tool
LinkedIn is highly against data scraping on its platform. In fact, they never want people's inbox and newsfeed to be bombarded with spam content. That's why their monitoring system regularly checks for inappropriate or illegal activities that are in violation of the LinkedIn User Agreement. If LinkedIn detects a history of repetitive violations, your account can be restricted temporarily or indefinitely in severe cases.
In their attempt to track suspicious behavior and block automation tools, LinkedIn monitors the locations of the IP addresses that are used to log into your account. While Chrome extensions use IP addresses that may be based in a different country, most cloud-based tools use a dedicated IP address that's based in your own country.
LinkedIn automation tools that use rotating IP addresses do so to avoid detection. But they put your account at risk of being flagged as suspicious. However, with a static IP address, your device is assigned to an address that doesn't change. While extensions can only process campaigns when your browser is open, cloud-based tools are active whenever.
What is Salesloop?
Salesloop is a LinkedIn automation tool that helps you to make new connections without going against LinkedIn safety guidelines. As a cloud-based platform, it's a safe tool that marketers, indie hackers, recruiters, and companies can use to automate their prospecting and lead generation campaigns on LinkedIn.
With Salesloop, you can build highly targeted lists of prospects, create personalized messages that are tailored to each prospect, gain new connections, and engage in high-quality conversations.
Unlike chrome extensions that risk your LinkedIn account and require you to leave your laptop awake while a campaign processes, this cloud-based app is safe. It has a built-in proxy management feature that registers your message with the location where you're based to avoid being flagged by LinkedIn.
Main features of Salesloop
Cloud-based prospecting
With a cloud-based tool like Salesloop, you can automate your LinkedIn outreach campaigns without having to keep your PC open. As you have seen before now, this platform also protects the health of your LinkedIn account by registering the dedicated country based IP with your messages.
Salesloop is integrated with LinkedIn so you can connect your account with a few clicks. To keep your account safer, Salesloop allows you to queue 30 LinkedIn accounts each day. This automation tool also allows delays that last for 5-10 min so that your lead generation campaign can appear more organic.
Connect targeted prospects to your list
It's easy to build your prospect list in Salesloop. You can upload a CSV file of LinkedIn profile URLs and start creating sequences at once. If you want to filter leads by geography, industry, job titles, you can search on LinkedIn Sales Navigator and use the URL to build your lead list in Salesloop. You can also add leads to your list by performing a search on LinkedIn and using the URL in Salesloop.
Personalize, schedule, and automate your outreach messages
In Salesloop, you can personalize to the individual by incorporating content that educates or adds value to the prospect. You can create and send personalized connection requests with automated follow-up messages that are tailored to the prospect. What's more, you can automate sequence unenroll for prospect replies using the best practices for sales outreach. You can only set up outreach campaigns across LinkedIn for now. Notwithstanding, email, phone, and Twitter integrations would be released soon.
Track key campaign metrics
In Salesloop, It's easy to understand your outreach campaign with the insights that can be generated from tracking metrics. You can track connection requests, open rates, response rates, and more. With this data, you'll be able to monitor real-time engagement and gain key performance insights on your prospecting campaign.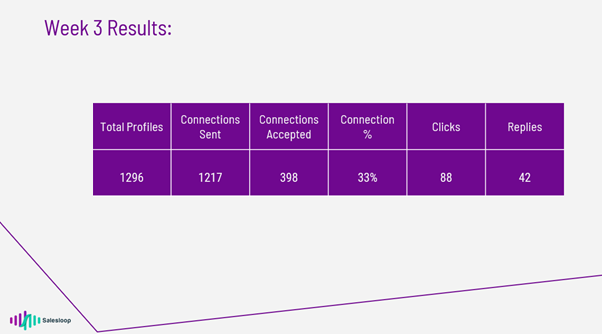 Pros and cons of using Salesloop
Pros
Salesloop is a cloud-based automation platform with a static IP feature that helps to protect your LinkedIn account.
Salesloop offers a 7 days free trial period for a premium plan that's priced at $39 per month.
You can plan an account-based strategy across job titles.
Cons
You can only set up outreach campaigns across LinkedIn for now. Email, phone, and Twitter integrations are yet to be released.
What is OctopusCRM?
Octopus CRM is an automation tool that helps you to build a customizable sales funnel on LinkedIn. It's an all-in-one Chrome extension that can help marketers, recruiters, and businesses to skyrocket their LinkedIn prospecting efforts. You can automatically endorse skills for your 1st level connections, view hundreds of profiles, and send bulk connection requests. After a request is accepted, you can decide to automatically send a 'thank you' or 'sales' message as your first follow-up. To track campaign performance, you can use the analytics page to monitor acceptance rates, response rates, conversion rates, and other interesting statistics.
Main features of OctopusCRM
Automate your outreach campaigns
In OctopusCRM, you can send automated connection requests to 2nd and 3rd level LinkedIn connections. You can upload your CSV file of LinkedIn profiles or use a LinkedIn search URL to send bulk messages to your 1st level connections. This tool allows you to personalize your outreach campaign, automate your lead generation funnel, and track performance in your personal dashboard.
Track your statistics and evaluate campaign performance
It's easy to measure your prospecting efforts in OctopusCRM. You can track valuable LinkedIn statistics and analyze performance for multiple campaigns. OctopusCRM allows you to monitor profile views, connection requests, search appearances, endorsements, open rates, and even your social selling index.
Pricing
OctopusCRM is available in four plans: Starter, Pro, Advanced, and Unlimited.
Starter – $9.99/month (7 days free trial).
Pro – $14.99/month (7 days free trial).
Advanced – $21.99/month (7 days free trial).
Unlimited – $39.99/month (7 days free trial).
You can save 35% by opting for an annual subscription over a monthly plan.
Pros and cons of using OctopusCRM
Pros
OctopusCRM is compatible with LinkedIn Sales Navigator, Premium, and Recruiter.
You can integrate your OctopusCRM campaigns with Google Doc, Zapier, Hubspot, and other apps.
You can upload your list of LinkedIn profiles or use a LinkedIn search URL to build prospect lists in OctopusCRM.
Cons
OctopusCRM is a Google Chrome extension so your laptop must be awake and open for your campaign to be processed.
Wrapping up
Social media now makes it easy for salespeople to delight their prospects with highly targeted and personalized content. In fact, using LinkedIn for prospecting is a competitive advantage for B2B companies. It remains the largest network of professionals from over 200 countries.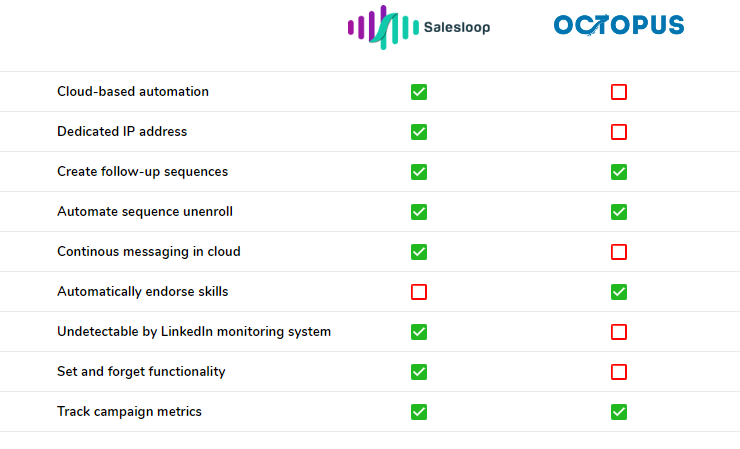 Although LinkedIn doesn't support scraping, your account is a lot safer with a cloud-based automation platform. LinkedIn is able to detect non-human behavior and users of Chrome extensions like LinkedHelper have suffered account bans in the past.
---