With the wealth of webinars & virtual events that are happening at the moment, its incredibly difficult to be heard above the noise. This is particularly true for the tech industry where well-funded SaaS marketing teams are creating some incredibly engaging events and getting incredible speakers to boot.
A large number of marquis tech summits have gone exclusively online as well, many of them are free or operating at vastly reduced ticket prices for online access. Web Summit have announced they will be 100% online, as was SaaStr. Summit in April – following which Jason Lemkin wrote a quality breakdown on his learnings on putting on a virtual event for 16,000 people (spoiler alert: he used HeySummit too!).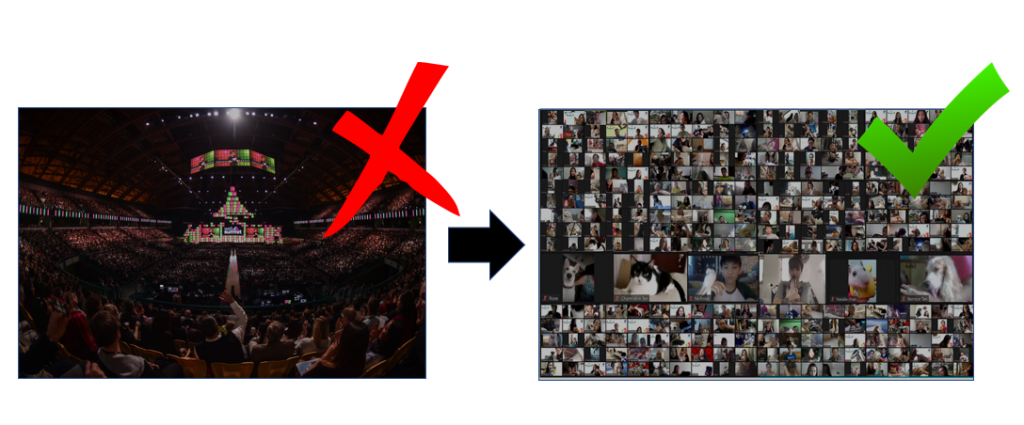 However, for most B2B startups, getting 16,000 people to attend their event is the stuff of pipe dreams. In fact, its probably more a night-marish scenario that would indicate their targeting is completely off! When we were initially approached by FL3XX, an aviation software company, in the planning stages for their virtual event, their primary request was:

We want to get hyper-targeted on our ideal customer segment and only drive relevant attendees. Can you help us use this virtual conference to get demo's?

The FL3XX Marketing Ask
There are a few reasons this makes sense, as Orla Doyle, FL3XX Marketing Manager outlines:
"We wanted to organise an event that really spoke to our ideal customer and allowed us to really focus on providing the messaging and content that really matters to this audience.

While we've done larger mass events in the past, given how stretched our sales & marketing team were already, we wanted to ensure this event created actionable output – in the form of customer & demo requests that the team could execute on".

Orla Doyle, FL3XX Marketing Manager
Which makes a whole heap of sense.
Often what we see in the B2B segment is an unnecessary emphasis on volume. Using a major keynote speaker or attraction to get quantity of sign-ups and a loss of focus on what the true success of the event means – quality of sign-ups that then convert to demo requests and new business. Keep in mind, the limitations that FL3XX were very conscious of, are limitations most startups and SMB's are all too familiar with:
Finite resources; particularly in terms of small sales & marketing teams
CRM constraints; a CRM that is paid on number of contacts means getting huge volumes of sign-ups automatically leads to bloat
Ability to execute; if there are 1000's of new customer contacts and minimal lead scoring, this can create incredible pressure on the sales team around identifying where their energy and time is best spent
Quality of the discussions; the networking & discussions at the event can be impacted as well. By having a really targeted focus on your customer, you also ensure that all your attendees will be able to have engaging virtual networking and discussions as well.
Tech challenges; the complexity of managing huge volumes of attendees increases exponentially
At least with the final point above, FL3XX were covered.
We pointed them in the direction of HeySummit as we had heard only great things from our customers that had used them. This meant in terms of creating an event landing page, managing bookings, organising and advertising multiple day sessions, FL3XX were covered. As Orla told us:
"HeySummit just took the complexity out of it. And their Customer Success team were really brilliant at answering any questions we had and helping us along the way".

Orla Doyle, FL3XX Marketing Manager
So with the technology and content sorted, FL3XX just had one major hurdle remaining. How to get their ideal customers aware of the event so that they could get booked and registered in advance.
And this is where Salesloop came in.
We used Linkedin Sales Navigator to create two incredibly targeted lists for FL3XX – one for their EMEA prospects and one targeting the US. Firstly, we assessed their ideal company targets:
Geography: EMEA
Industry: Airlines & Aviation
Company Headcount: 10 – 500
That gave us a large list of everybody working at any company that fit those company profiles. So we needed to get granular on the ideal buyer profile who would be working at those companies – in particular, zeroing in on the job profiles that regularly make purchasing decisions for FL3XX:
Years in position: > 10 years
Job titles: There were a large volume of suitable job titles including: "Manager, Director, Head of", that combined with descriptors such as "Aviation, Charter, Dispatch" and more.
The result was a hyper targeted list of approx. 1000 targets for the EMEA region as can be seen below: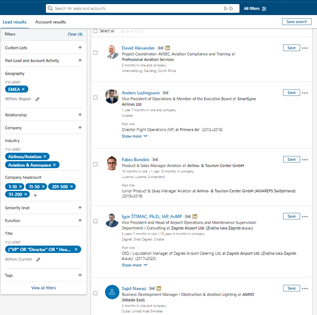 Now that FL3XX had their ideal targets identified, they worked with us to create an omni-channel approach to inform and convert those targets into event registrants.
Salesloop Account Manager, Jenny Tyler, took two definitive steps to create this campaign. Firstly, we used 3rd party data enrichment services to populate and verify the email & social profiles, followed by our team manually verifying these leads as well. It's a time consuming process, however, it truly is essential to ensuring removal of false emails and ensuring accuracy of data.
Following this, we created our omni-channel campaign in Salesloop, beginning with Linkedin automation to send personalised messages to prospective attendees. The aim: not only to connect with the attendees, we also wanted to ensure the event link was included in the Connection Request – and used a URL shortener to ensure we could also track clicks.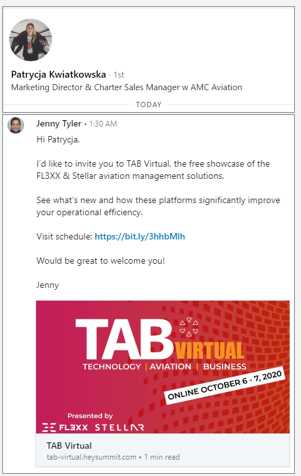 The results speak for themselves: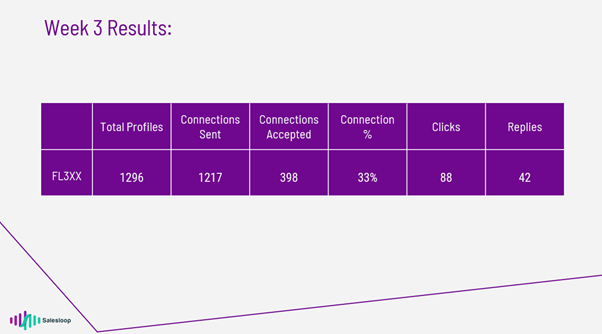 In total the FL3XX virtual conference had a total of 122 attendees, which may not sound like an incredible return. However, due to the extremely precise nature of the targeting to achieve these 122 attendees .. a total of 19 signed up for demo requests – a staggering event registration to demo conversion of 16%.
Looking to emulate these results for your event? Book a time with one of sales team or drop us an email: hi@salesloop.io to get started.
---