Click here to sign up for a 7 day trial and use that free access and our guide below to grow your network and proactively pursue your next role:
1. Be patient and kind to yourself. Your mental health is vital
There have never been as many talented people laid off through no fault of their own. Keep that in mind. The most important aspect of facing redundancy at any time is managing your mental health and motivation, with a significant number of people never having faced this before.
Make sure you be patient with yourself. This isn't your fault. COVID is a global issue and never have we seen so many exceptionally talented people being made redundant.
The startup, business and social welfare communities are all coming together. Check out the available supports. For example, Techcrunch have some great available resources that they're sharing, courtesy of Natasha Mascarenhas:
2. Be strategic. Your time & focus is valuable.
While the below chart showing US unemployment claims doesn't make for pretty viewing, it does highlight how many people are in the same boat. Unemployment has exploded and this is reflected in similar charts across the UK and wider European market as well. (The original article by A16Z partners D'arcy Coolican and Jeff Jordan is well worth a look as it also talks of the trends to expect when re-hiring starts).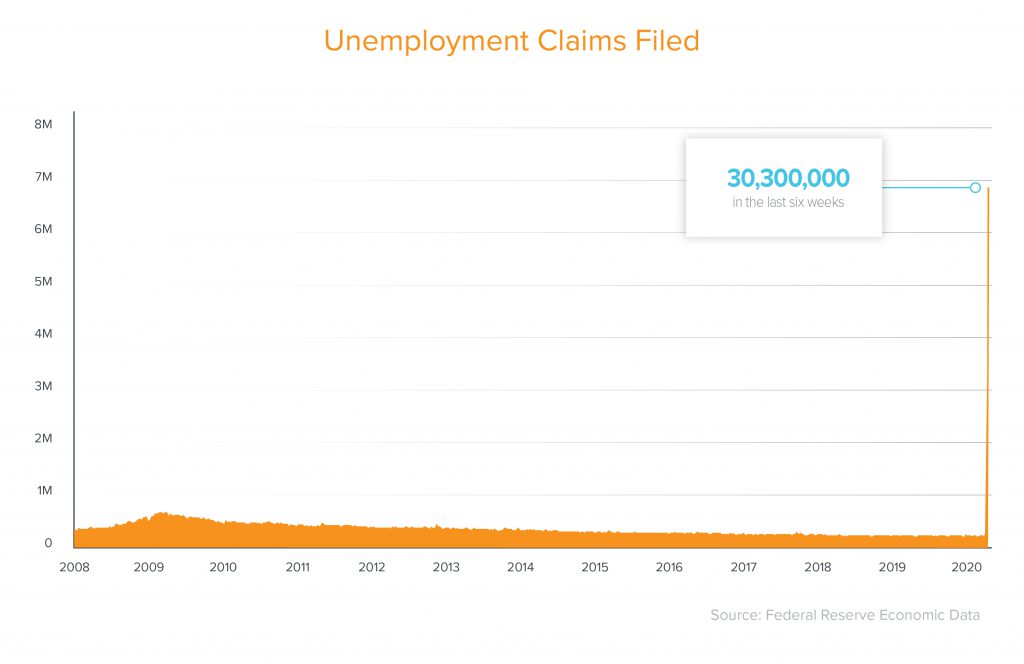 What this highlights is there will be significant competition for jobs and it's important to make use of your time effectively. It's all too easy to get sucked into a worm hole of trying to apply to as much as possible, to any and all jobs, as quickly as possible.
With only so many hours in the day, lets look at how you can use automation to help you, to grow both your network for the long term, as well as proactively prospect for relevant positions. It's essential to focus our efforts – that is exactly why Salesloop is offering 3 months completely free for anyone impacted by COVID-19 layoffs.
3. Create a list of prospective future managers
The first step is to find your future manager. Sounds odd, but the beauty of Linkedin is the incredibly granular and detailed access it provides to people. If you're approaching this as an exercise to grow your ideal career network for a new role, you can approach this as an opportunity to source your new manager!
The easiest way to do this and focus in on your ideal next role, is to search for your future managers job title. This will then present a list of your ideal targets – that is, the people in your industry that you want to connect with, whether for short term gains like a job, or to grow your network for the longer term. It's very likely that if you search for a popular job title, for example "Customer Success Director", you're going to get a serious amount of results!
4. Filter your target list with an industry focus
In order to make your target list more manageable, we can use Linkedin filters to try and narrow your results down, ideally to between 500 – 3000 for an initial outreach campaign.
By filtering this list with an industry focus, you can start to take into account your own experience. For example, if you have a number of years experience in Financial Services, then one approach is to filter by this industry in order to ensure you're giving yourself the best chance to stand out those managers who will value that experience.
If you're industry is seriously affected by COVID-19, then an alternative strategy is to focus in on the industries that are growing currently and identify growth companies within those industries. Cody Jones, Partnerships Lead at Zapier shared this excellent graph of Growing SaaS categories based on the data they collect. A good starting point at least: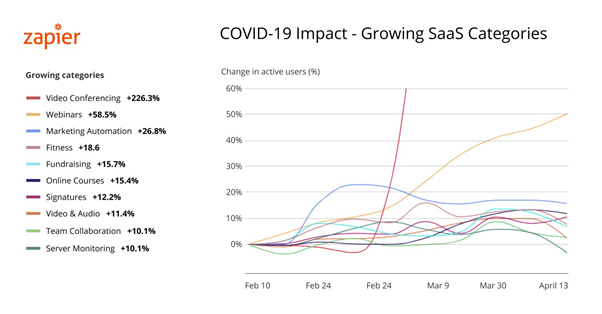 5. Copy the Linkedin search URL
Once you've used your filters, in particular industry and country, you should be able to reduce your list of managers from a very high number, down to something more realistic.
The gif below shows how we reduce the number of results in a search for "Customer Success Directors" from 1.3 million results, down to 1600 by selecting an industry and a country to filter the results by. These results should now be hyper relevant to you and represent the industry & country within which you want a job, as well as the ideal managers you would like to work for.
Once you've completed the search and are happy with your target list, you should then copy the Linkedin search URL as outlined below. This will be required for the campaign that you create in Salesloop.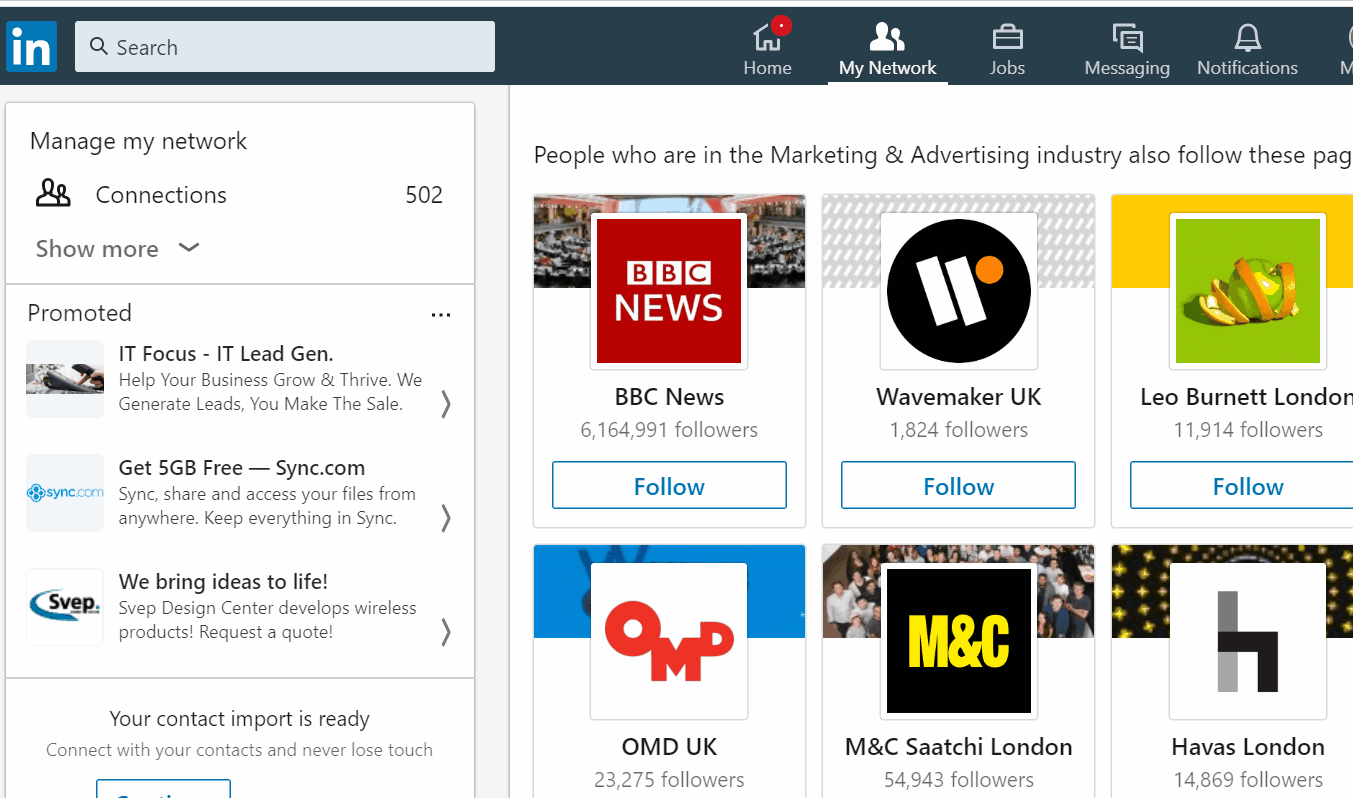 While the above search relates to normal Linkedin search, the same approach applies to Linkedin Sales Navigator which is extremely useful and allows for significantly more detailed search filters. Keep in mind, you get a free month to test out premium Sales Navigator functionality – now may be a good time to use it!
For a more detailed and very insightful breakdown of how to use Linkedin Sales Navigator, check out this detailed guide from our pals at Aeroleads. They go into great detail of how to maximise the benefit of Linkedin Sales Navigator in this super useful guide.
Once you've selected your filters (as shown below), you can copy the browser URL in the same way and use that to create the Salesloop campaign (outlined in step 6).
5. Create a Salesloop Account & Connect Your Linkedin
Once you have your ideal Linkedin search URL, you'll need to make sure your Linkedin account is connected to Salesloop. This will ensure Salesloop can automate and send messages from your Linkedin account on your behalf:
6. Set up your Linkedin campaign in Salesloop
Once your Linkedin account is connected, we can start to create your campaign in Salesloop. Remember that Linkedin search URL, yep below is where you use it to start queuing your users. The most important step, however, is the final step: fine-tuning your Connection and Follow-up message.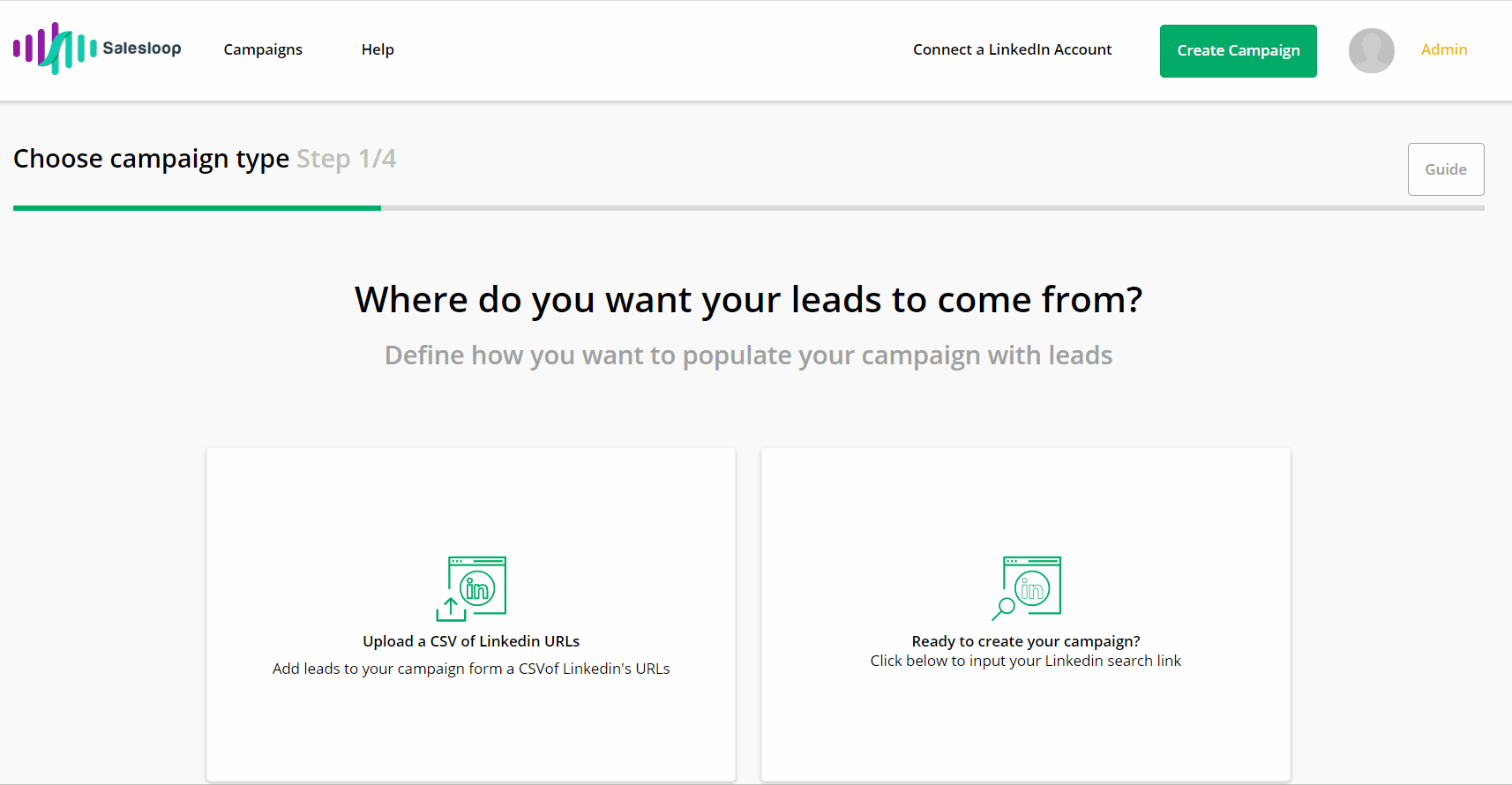 7. Get your messaging tight
While Linkedin automation can remove manual work and allow you to grow your network on auto-pilot, what you say in your messaging has to come from you and has to come across as genuine and authentic.
The last thing you want to come across as is spammy when you're reaching out to people and the best way to avoid this is to keep it short and snappy. Keep in mind, these are your ideal hiring managers and if they're in the market for someone of your experience, your profile will intrigue them anyway, so you can keep the Connection message relatively neutral and short – anyway, it has to be within the 300 character limit that Linkedin sets on the website:

Once you have your Connection message, you can start to think about your Follow Up message. Salesloop is able to send a Follow Up message automatically, if your connection request is accepted and the person doesn't respond to you with a question or their own response. Uniquely, Salesloop is super smart as well – meaning that if the person does reply, Salesloop will check and will not send a follow up message, as it won't have the context necessary – that means you can reply directly to you hiring manager if they respond.
If they don't respond though, its a great opportunity to probe them a little more and depending on how comfortable you are, give them some insight into why you're connecting. Additionally your follow-up messages aren't limited by a 300 character limit so you can go into significantly more detail. A suitable follow up message could include:
Hi,

Great to connect! I'm currently working out my final month with my present employer due to COVID-19 redundancies so naturally eager to grow my network.

I really enjoyed the work I was doing there, personal highlights for me was working with such a great team and [insert personal achievement].

If you're looking for someone with that type of experience or want to hear more about how I approached [personal achievement], happy to fill you in. Might be writing a blog post about it shortly too – think that's a good idea?

Hope to stay in touch either way,

Thanks,

An example follow-up message
That type of connection message can set a good tone, with positive energy and it allows you to highlight a key personal achievement (you could add 2 or 3 if you want!), as well as positioning yourself as someone who is exceptionally proactive and willing to make things happen.
8. Insert your messages into Salesloop and add personalisation!
Finally, we're almost there. You've got your ideal targets, you've connected your Linkedin, you have your Linkedin search URL to add in to the search bar .. all we need to do now is add in your preferred messages in the Connection and Follow Up sections as shown in the gif below. As mentioned, Salesloop is built to be a smart automation tool, meaning it:
Dynamically checks your Linkedin account to calculate how many messages you can send daily (making sure you don't get banned!)
Automatically checks if your hiring manager target has already responded to you, so you don't send an out of context Follow Up message, and
Allows you to include personalisation tags in your messages as well: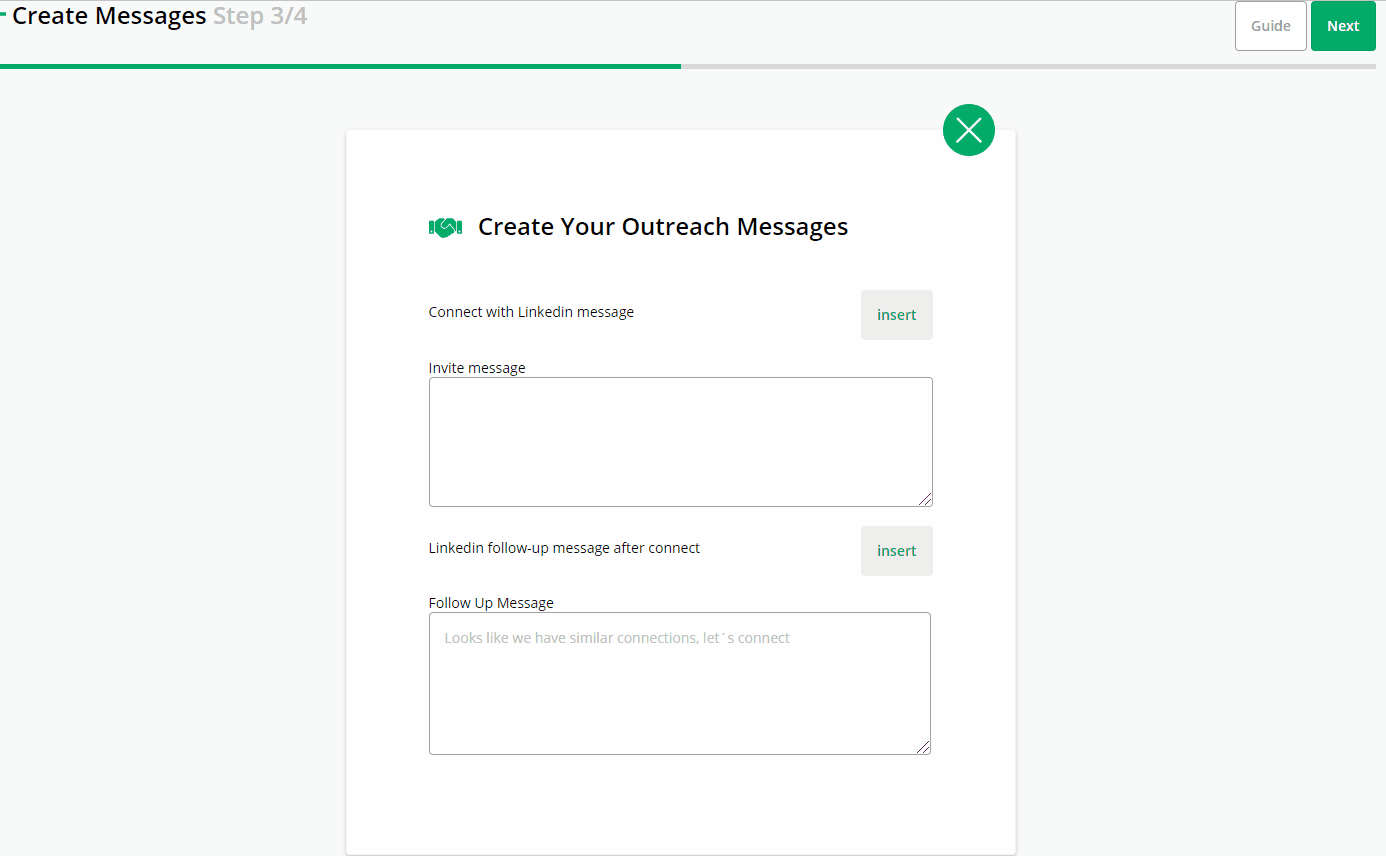 That's it. All you need to do now, is click Publish. Well done for being such a proactive superstar. Those hiring managers won't know what hit them!! ???? ???? ????
---