Before we dive into customizing an alluring Linkedin invite message or a Linkedin connection request, I want you to show you some stats.
These stats is why paying a ton of attention to craft the perfect connection request is a deal-breaker, literally.
Personalized Linkedin connection messages are 3 times ensured of a response than emails.
Your chances are 27% higher in eliciting a response when you cite a mutual former employer.
You will be 21% more successful if you include a common group in which you and your prospect are a member of. Score 1 for tribe mentality.
As a recruiter, you are 95% better off while getting a response if the recipient is following your company.
89% believe that if a recruiter sends the connection message first, the candidate is more willing to accept the job offer.
Linkedin is one of the best personal branding tools you can use when you on a job spree. Regardless of who you are, an updated Linkedin profile is must have if you are entering the workforce.
Workshops, training sessions webinars are now thronging ad spaces. Live sessions are being marketed day in and day out to help Linkedin users, job seekers and freelancers optimize their Linkedin profiles and connection requests.
Despite letter writing being given as an acid test since our halcyon school days, writing a good Linkedin message for recruiters still is a sour spot for our writing muscles.
This is not because of any fault of your own. But blame us, marketers and content creators, who have been reducing readers' attention span lesser and lesser each day.
The golden, first 3 seconds – after which your reader/recipient's interest descends- is a scanty resource.
That is why you need, either a tried and tested template or a trusted framework, to craft the perfect linkedin connection request.
In this post, we guide you towards creating the perfect Linkedin connection request.
Set a goal before you craft any Linkedin connection request
There are three goals for people who use Linkedin:
Message leads for freelance opportunities
If you are a freelancer, then your goal should be sending a personalized Linkedin invitation to generate leads for your business/service.
Remember that you have only 300 characters to stamp the first impression. By fixing your priorities, here generating leads, you can use the right combination of words for the advent of a relationship with your prospect.
If you are looking to build your personal brand, then you would have various goals such as asking people to engage with your content, connecting fast with followers, etc.
Note: Always connect with relevant people who can benefit and understand your content. Only this benefits your personal brand.
By equipping a mindset to build a personal brand, you can
talk about your personal goals for your community
similar interests
eye-catching content posted by your recipient
in your linkedin invite.
Job seekers, do not make the mistake of asking for jobs in your first Linkedin message.
If you are looking for a job or if you have a job opportunity then practicing the art of writing a good Linkedin connection request is super important. For the jobseeker, there is a ton of data to support why you should work hard, test and arrive upon the perfect, 300 character-ed sauce of a message.
To name a few instances, you are are ensured of a response from your recipient if you tell them of a mutual former employer, common groups, common meetups, and clubs, when you write your linkedin connection request.
Three places on Linkedin to draw quick inspiration from to write a Linkedin connection request
Your first message need not be an omniscient, all-knowing paragraph. In fact, it may be appropriate in a few occasions.
But some personalization is potent!
There are three places from where you can instantly draw inspiration to derive the sugar, spice and everything nice to craft the perfect Linkedin connection message for your prospect.
Profile headline: Quick inspiration for your Linkedin message
Your recipients' profile headline should be mine-worthy to understand to whom you are going to speak to. Your recipients' headline lets you ascertain the the tone of your message, their personal interests and their current line of work.
Featured section: People's very own vanity billboard
The Featured section is one of the most underrated places to look for inspiration on Linkedin. It is often excruciating to check the Activities tab of your recipient before sending a connect request. Depending upon the activity of the user, the Activities section can either be a treasure trove to personalize your connection request or it can be like going on wild goose chase, as you scroll heaps and heaps of content.
In contrast, the Featured section is where your recipient shall display their best performing content, certificates accolades, publications etc.
Obviously, everybody loves a compliment on the first conversation.
Here is the key. You have to be specific with your compliment.
Make note of the tabs in the featured section to find something for which you can :
congratulate
empathize
thank
your recipient for.
Experience section: The most undermined section to craft your Linkedin connection request
Did you know that you have 27% more chances of a getting a response if you include a mutual employer in your Linkedin connection message than someone who does not do the same?
That's the power of personalization.
If you and your recipient have worked under a common manager, company or even the same title you can include these elements in your linkedin message. These personal elements make your message more glamorous.
More importantly, you evoke three powerful emotions in one stroke- nostalgia, relatability and tribe mentality.
Common groups: Tap into the tribe of mentality
One of the needs often tapped from Maslow's hierarchy of needs is social needs.
Humans crave for identifying themselves with a tribe or a social group.
Without a doubt, this is why your prospects can accept – at a rate of 46% – your connection request on Linkedin, if you mention that you belong to a group on Linkedin in your message.
"… look for what's in common, and have a conversation about that. Be a person and make a real connection. Then earn the right for a future conversation by adding value to them, sharing an article or two with them, asking some insightful questions about what you shared, and then, once you've become friendly, invite a deeper conversation.

Phil Gerbyshak , Keynote Speak and Social selling trainer
You could very well automate the entire task using the tons of bots and tools. However, the point of sending a personalized connection request is to build a relationship.
Spend time researching the common groups you and your prospects are a member of; online and offline.
The AIDA way to create a magnetic Linkedin connection request
When I was thinking about writing the perfect Linkedin message, I knew I had to do three things:
Capture the recipients attention.
Make myself appear interesting.
Give them a reason to like me.
Make them do act.
Do all this under 300 characters
After 2 hours, I found a simple solution. A solution that direct marketing copywriters, social media ad specialists, email copywriters have been fixated upon, obsessed over, mastered or even failed to, over their career.
A simple copywriting framework called AIDA.
So, I am not going to geek about copywriting here.
But this is what you are going to do.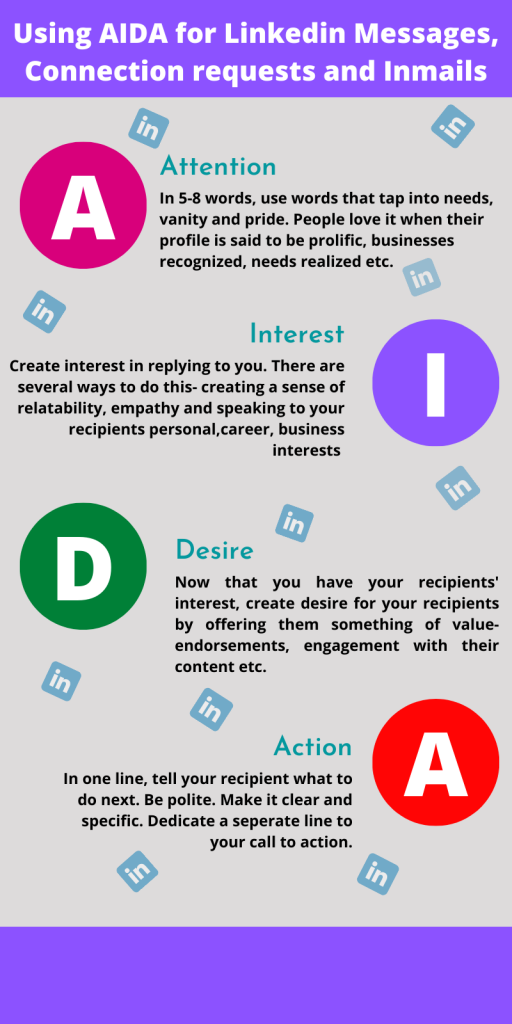 Attention
When your recipient looks at your Linkedin connection request message, he or she has 5-8 words to subconsciously judge your message as interesting or otherwise.
Make sure you pick your audience's curiosity using these 5-8 words.
Undoubtedly, Linkedin are looking for job offers, people with commonalities, leads/prospects to work with.
Appeal to the curious human mind in your personalized invite.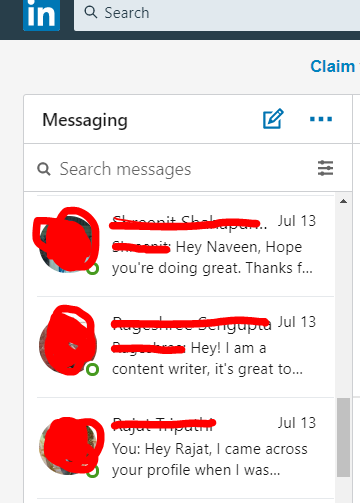 Interest & Desire
In the next few lines or steps your aim should be to create a zone of comfort, trust, relatability or opportunity. Use everything you have observed in your prospects' experience section, headlines, featured section to make them interested in what you have to say.
Do this, if you are looking to make connections and grow your personal brand,
talk about mutual employers
ask about their certifications
ask about mutual educational experiences
reveal similar interests and goals ( Linkedin is a great place to collaborate)
tell common problems you both may have.
thank them for inspiring content you found on their Featured section
If you are looking for freelancing opportunities, never ever make the mistake of asking for a job in your first Linkedin message.
Trust me, no matter how perfect your Linkedin invitation or message is, it will still meet the same fate of a human staring into the eyes of a Medusa or a Basilisk.
"How can I help you?" says: I care about you and your business. How else can I add value? Thank you for helping us do business better.

Melonie Dodaro, CEO, Top Dog Social Media
Instead, talk about your passion to work in the company or in a similar industry. Talk about former experience and give a few results.
LinkedIn's 'The State of Sales' Reports reveals that 77% of buyers wouldn't engage with a salesperson if they don't share insights or knowledge into their business.
Prospects love results! Talk about what you have done for other businesses. Share case studies.
Do all this in under 300 characters, of course.
If you are a recruiter, it's time you put your copywriter hat and craft a message and go full-on with all about your employer branding.
Action
The last step is to clearly, directly but politely mention what you want your prospect to do.
Do you want them to connect with you?
Do you want them to click on an job portal/case study/company benefits link?
Make a specific point and let this stand alone in a seperate line.
Did you know that you could automate sending personalized Linkedin invitations in bulk? Check out our automation tool.
---