What is LinkedIn Automation?
With LinkedIn usage steadily increasing over the past few years, reaching an all time high of 41% in 2018, B2B marketing has found its home on LinkedIn, but to manually take advantage of the platform takes a good percentage of your time. There's where automation can help you.
LinkedIn automation is mostly about using software that takes certain actions automatically so you don't have to. The options vary from sending messages, scraping data, engaging with contacts, and much more. It saves you time and money promising great lead generation and networking expansion. There are also other automation tools with unique perspectives on data analysis and marketing approaches and, sometimes, it might be best to use more than one tool.
But, with LinkedIn increasing popularity the offer of automation tools has grown to an almost impossible to filter amount. Since there are many LinkedIn automation tools on the market, we gathered a list of 17 noteworthy LinkedIn automation tools. Let's take a look at them, what are they for, their main features and their pros and cons;
1. Salesloop.io
2. Linkedin Sales Navigator
3. GoLogin
4. Crystal
5. Linkedin Away Message Feature
6. Phantom buster
7. Leadiro
8. Leadfuze
9. Linkmatch
10. LinkedHelper
11. LinkedIn Lead Gen Forms
12. MeetAlfred
13. Attach
14. Zopto
15. Dux-Soup
16. Octopus CRM
17. Prospect.io
1. Salesloop.io
The gold standard in Linkedin automation.
Salesloop.io is a relatively new tool, but it provides solutions to many of its predecessors' problems. Mainly, it takes every precaution not to endanger your account by following LinkedIn guidelines. Salesloop uses a built-in proxy management feature that registers your message with the location you're based at, avoiding being flagged as a suspicious account. Also, by providing a cloud-based platform, you don't have to leave your PC open for your automated campaign to work.
With its LinkedIn integration, Salesloop allows you to use the platform's filters and search engine to create a specific prospect list before you personalize, schedule and automate your outreach campaign. Other features include automated sequence unenroll for prospect replies, and easy personalization and content addition to add value to your campaigns.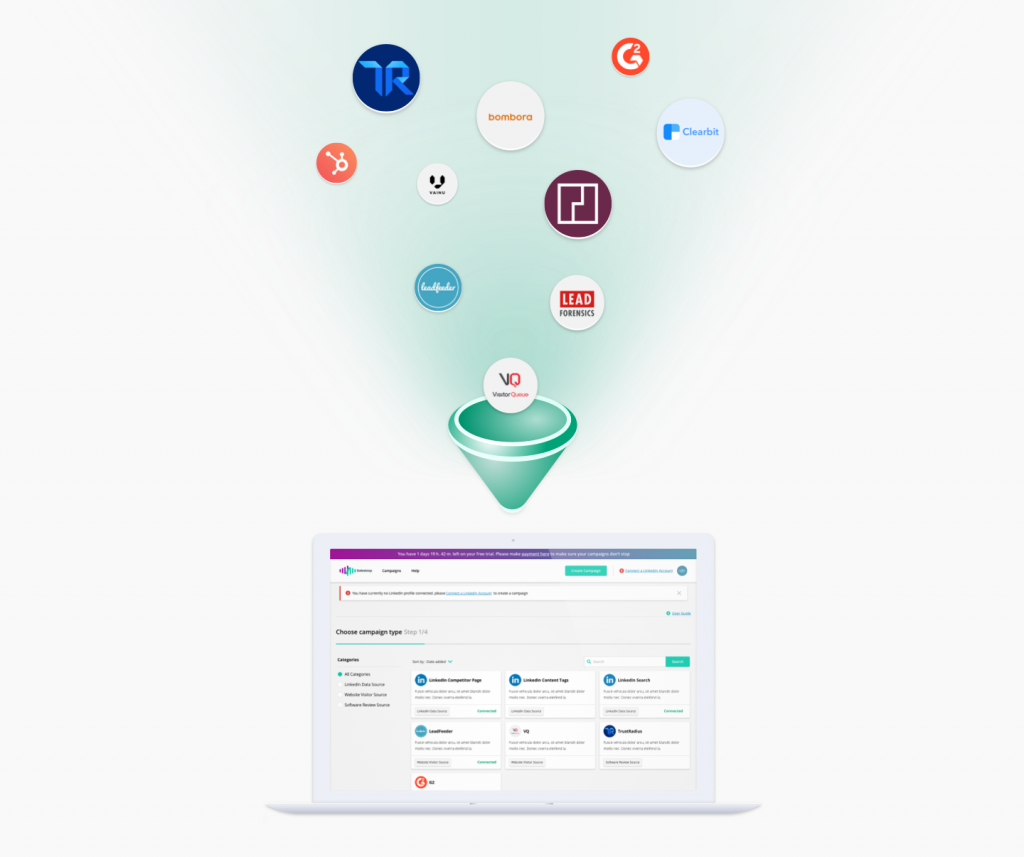 Salesloop Pros and Cons
Pros
The wide variety of integrations allow you to create data-driven Linkedin automation campaigns based on companies showing intent or meeting your ICP requirements.
Salesloop static IP feature protects your LinkedIn account. Being a cloud-based automation platform it can still work while you, and your PC, rest.
Salesloop offers a 14 day free trial period for a premium plan that's priced at $39 per month.
You can plan an account-based strategy across job titles.
Cons
For now, you can only set up outreach campaigns across LinkedIn, although, e-mail, phone, and Twitter integrations are planned in the near future.
2. LinkedIn Sales Navigator
LinkedIn provides you with great tools itself, one of them is LinkedIn Sales Navigator.
When prospecting getting specific results is not only a time saver, but also the key to a successful outreach campaign. LinkedIn Sales Navigator offers you the most precise and targeted searches you can hope for. Advanced filtering, customized suggestions, and plenty of options to provide you with a super targeted lead list. This feature works best when paired with an automation tool that allows you to take full advantage of the data you collect, since LinkedIn Sales Navigator still requires you to contact the leads manually.

LinkedIn Sales Navigator Pros and Cons
Pros
Since it's an inhouse feature, LikedIn Sales Navigator is safe and tailor made to work with the same interface you are already familiar with by using LinkedIn. The filtered search provides the beast lead optimization available for the platform.
Cons
You have to manually follow and contact the leads you generate. It's also an expensive tool, and it may not be the best idea to get into LinkedIn Sales Navigator if you're not already familiar with contacting leads and analyzing LinkedIn's data.
3. GoLogin Pros and Cons
Pros
Account Sharing. GoLogin makes it easy to share LinkedIn accounts with your team. This feature allows multiple people to work on lead generation from the same account, enhancing collaboration and productivity.
Avoiding Restrictions. With GoLogin, you can work from anywhere without facing LinkedIn's geographical or IP restrictions. This feature is particularly useful for international teams.
Efficiency. Users have reported doubling their account management efficiency with GoLogin. By managing all your LinkedIn accounts in one place, you save time and effort.
Cons
Learning Curve. Like any new tool, GoLogin has a learning curve. However, most users find the platform user-friendly after a brief adjustment period.
Cost. While GoLogin offers a lot of value, it comes with a cost. The most economical package allows you to manage up to 100 LinkedIn accounts per month for only $24.
4. Crystal
Artificial intelligence is everywhere nowadays, and Crystal applies it to LinkedIn lead generation. By analyzing LinkedIn profiles, Crystal will provide you unique information about your leads personalities, likes, dislikes, how and what they buy. It's the ultimate personalization tool, that also shows you tips on how to interact with your prospects to make them feel at ease and win their trust.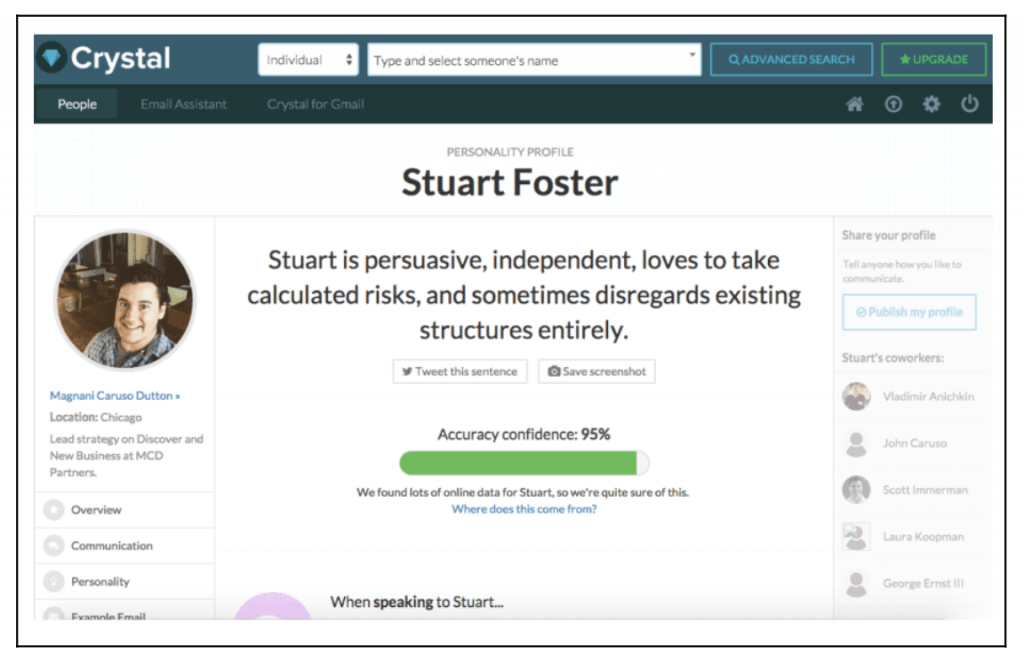 Crystal Pros and Cons
Pros
Highly accurate AI based analysis that provides tons of useful info and pointers on how to use it. Allowing you to reach out in effective ways, that plant the seeds for long lasting relations with your LinkedIn prospects and leads.
Cons
The free version of Crystal only allows you to analyse ten people a month. It will not automate your daily tasks or gather contact data, so you will still need other automation tools for speeding up your prospecting process.
5. LinkedIn Away Message Feature
A recent addition to the LinkedIn features, the Away Message allows you to set a personalized message to be delivered as an answer when someone contacts you during a set period of time. You can type a personal message, edit it whenever you need, and it will be sent to any connection that contacts you until the end of the final day of the period of time of your choosing.
This allows you to keep your connections informed of your absences, and not leaving messages unanswered that might lead to confusion or distrust.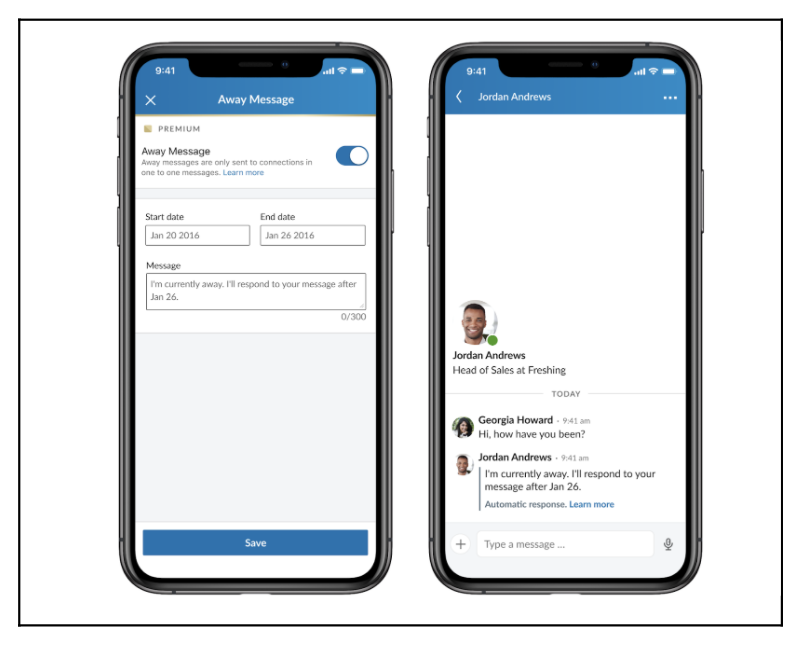 LinkedIn Away Message Feature Pros and Cons
Pros
LinkedIn's away message is easy to set and to personalize. It makes you look professional and responsible to your contacts when you can't answer their messages.
Cons
Unfortunately it's only available for premium users and there are no perspectives of the feature expanding to free users in the foreseeable future.
6. Phantom Buster
Phantom Buster provides a good variety of automation tools, such as automatically sending invitations to a list of LinkedIn users, collecting data from LinkedIn users, automatically engaging with posts, and automating workflows.
You can collect data from different sources, such as contact lists and events and export search results. Yet, Phantom Buster outreach options are not as optimized as other automation tools, and it may be best to use it for scrapping files and collecting data, while contacting prospects with other tools.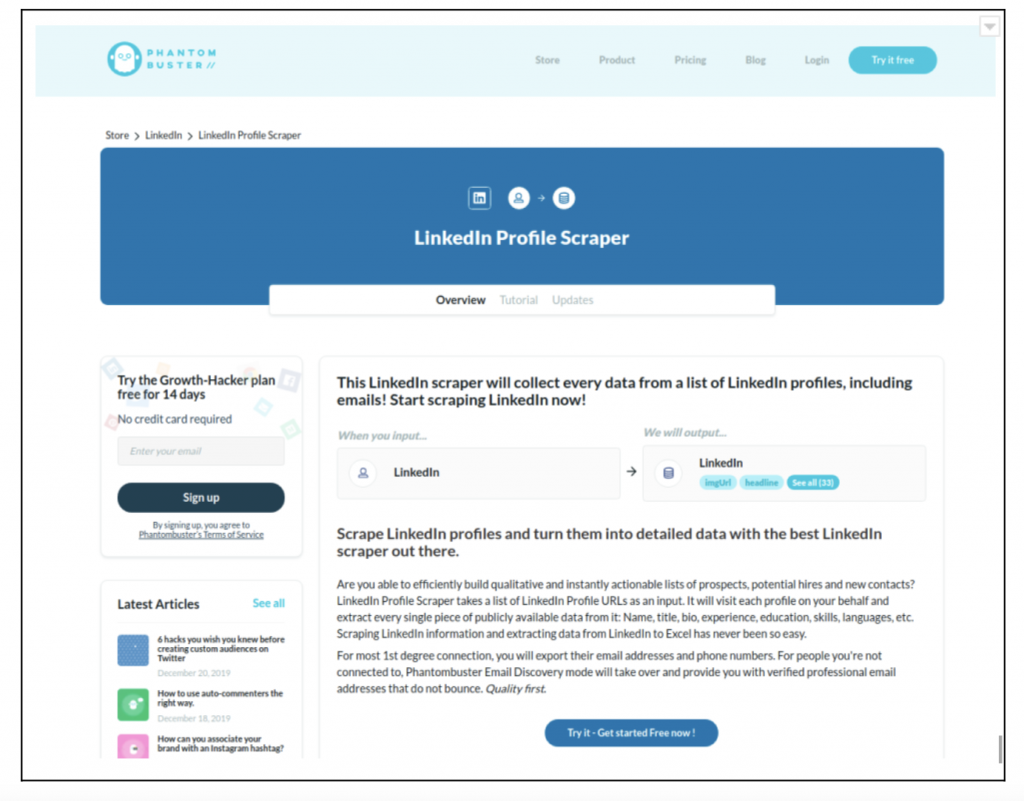 Phantom Buster Pros and Cons
Pros
Phantom Buster has a wide variety of options and is highly customizable.
Cons
It's web-based and not as safe as other options. Phantom Buster is also not so user friendly and may be a little hard to navigate at first. Also, to make the most of its features, Phantom Busters needs to be accompanied by other automation tools.
7. Leadiro
Leadiro gives you access to the largest database of validated business contacts. It provides emails and telephone numbers of companies around the world, adding up to over 47 million contacts ready for you to extract and contact. You can filter this database to ensure usability and even segment and save different campaign audiences.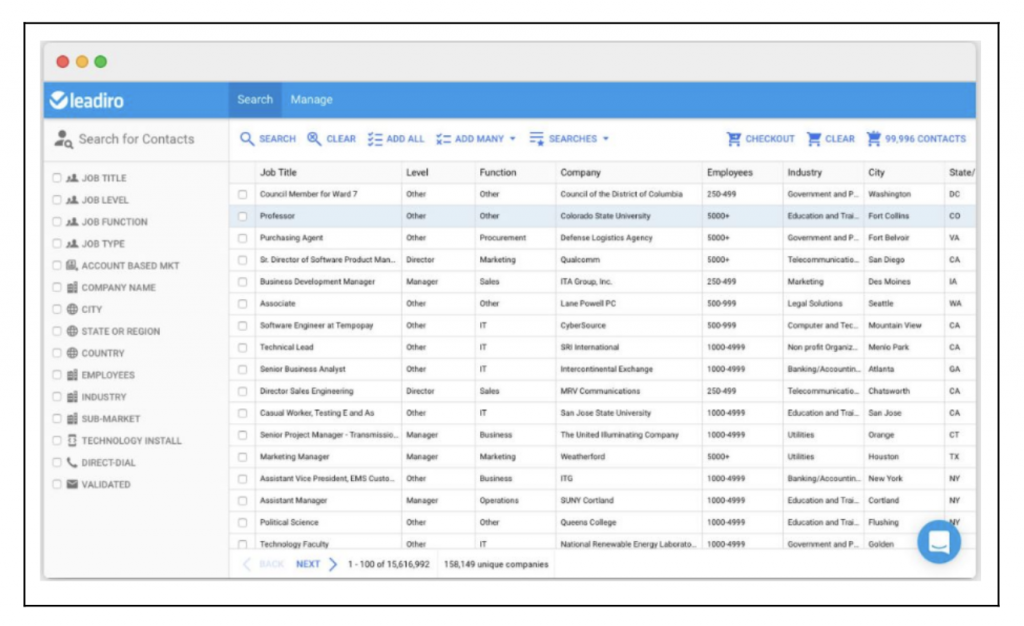 Leadiro Pros and Cons
Pros
Leadiro provides a comprehensive assortment of worldwide B2B contacts, with possibilities to filter by different parameters.
Cons
It only lets you generate databases that can't be exported, you will have to contact your prospects on your own or add them to your CRM manually. It also may not include many small businesses.
8. LeadFuze
LeadFuze will allow you to find new leads instantly. It can pèrform searches filtered by many criteria, such as geography, company sizes, positions, budgets, software usages, hiring companies, past experience, and much more, allowing you to perform searches as wide or as specific as you need.
It has a double validation criteria and a ignore list to avoid adding your existing contacts, competitors, or customers to your lists and spamming them with unnecessary messages.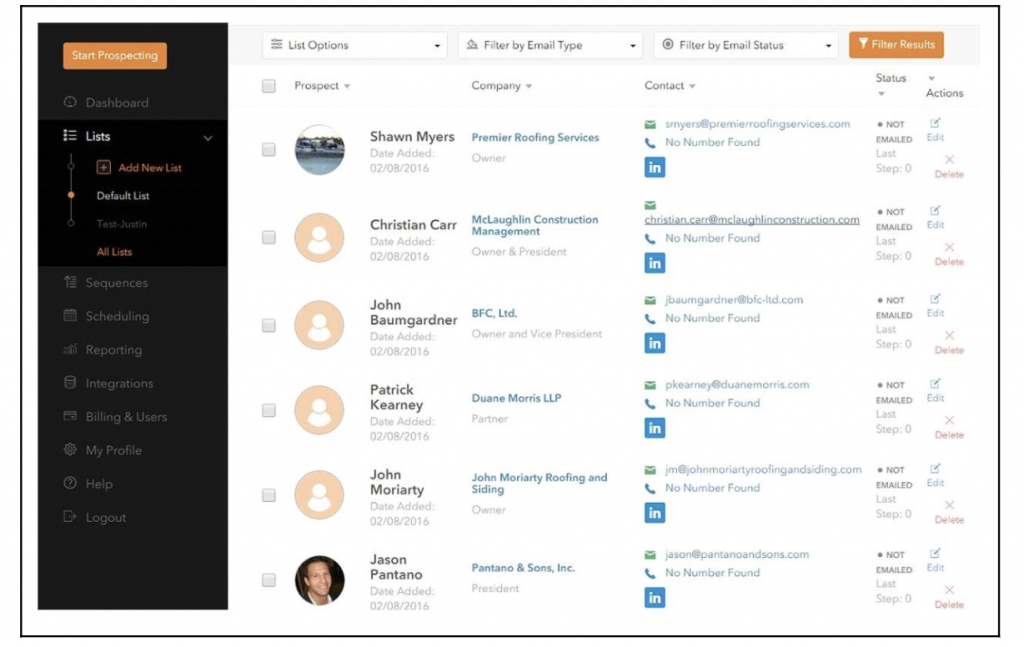 LeadFuze Pros and Cons
Pros
LeadFuze's main feature is how easier it makes prospect listing. It also has all the features available for all the plans, with the only variation being the amount of leads you get.
Cons
The main drawback to LeadFuze is the fact that it is highly priced. Even the free trial is for only 25 leads, which may not be enough to get a hand of all the features this tool provides and decide if it's the right one for you.
9. Linkmatch
Another browser extension, Linkmatch lets you save LinkedIn profiles to your CRM system. It shows clearly if any contact is already in your system and lets you synchronize new information when a LinkedIn profile is updated. It automates the sales and recruiting tasks that could take up your time leaving your schedule open to work on closing leads.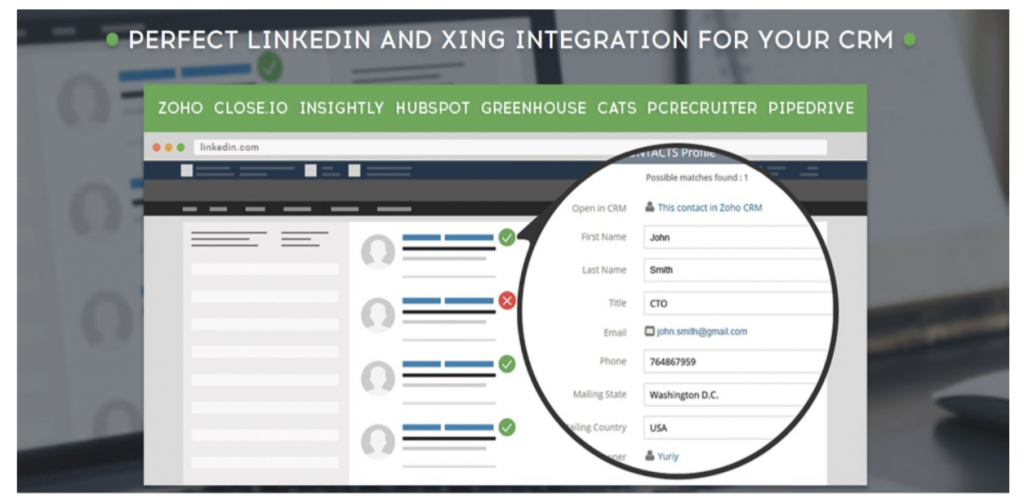 Linkmatch Pros and Cons
Pros
Easy to set up, good pricing and time saving features make Linkmatch a great tool to automate your CRM process.
Cons
Being a chrome extension, Linkmatch has had versions banned by the platform before, which may put your profile at risk of being flagged.
10. LinkedHelper
LinkedHelper is a web-based automation tool that covers a lot of ground. You can plan and execute outreach campaigns, reaching your 2nd and 3rd degree contacts. You can set how you want to engage with your contacts with auto follow and auto unfollow features. It also lets you gather information of contacts in LinkedIn groups you are a member of, and contact them. And you can import and export CSV files with your search results for easy integration with your CRM or for mailing campaigns.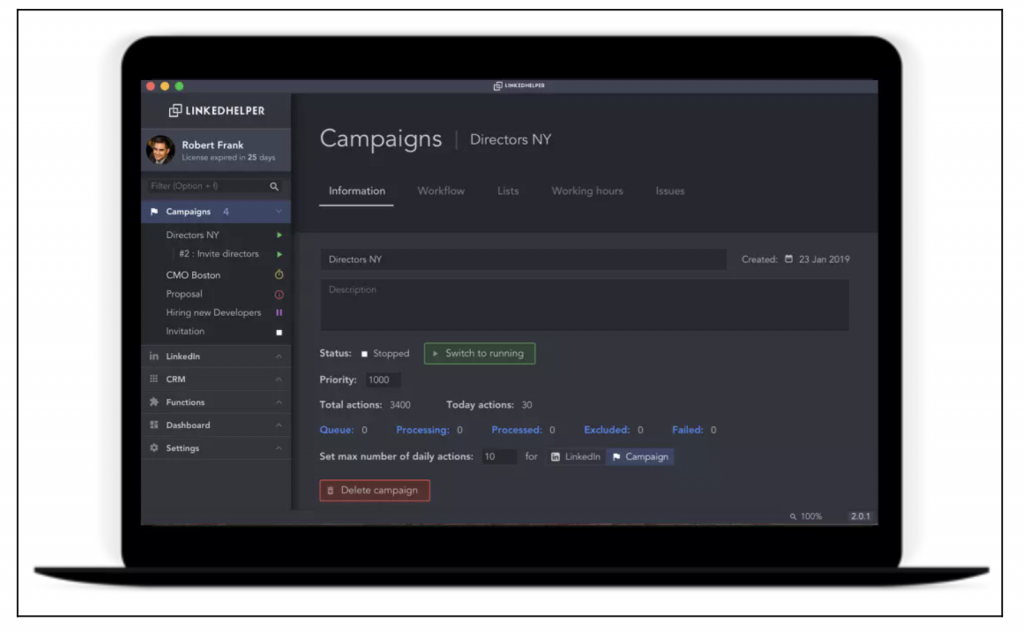 LinkedHelper Pros and Cons
Pros
As is the case for most Chrome extension tools, LinkedHelper is easy to set up and use. It has a good variety of options for an affordable price.
Cons
You have to be careful not to spam your contacts to avoid being flagged as suspicious by LinkedIn. Also, LinkedHelper will stop working when your browser is minimized, making multitasking rather difficult.
11. LinkedIn Lead Gen Forms
One more tool native to LinkedIn, linkedIn Lead Gen Forms has access to the entire CV of all LinkedIn users, which gives it an advantage when it comes to targeting specific traits and factors, such as work experience, studies, professions and more. Another unique feature to LinedIn Lead Gen Forms is that it helps you monitor your campaigns cost and rentability, by calculating and tracking your costs per lead, the amount of filled forms and how many leads you are getting from specific professional segments.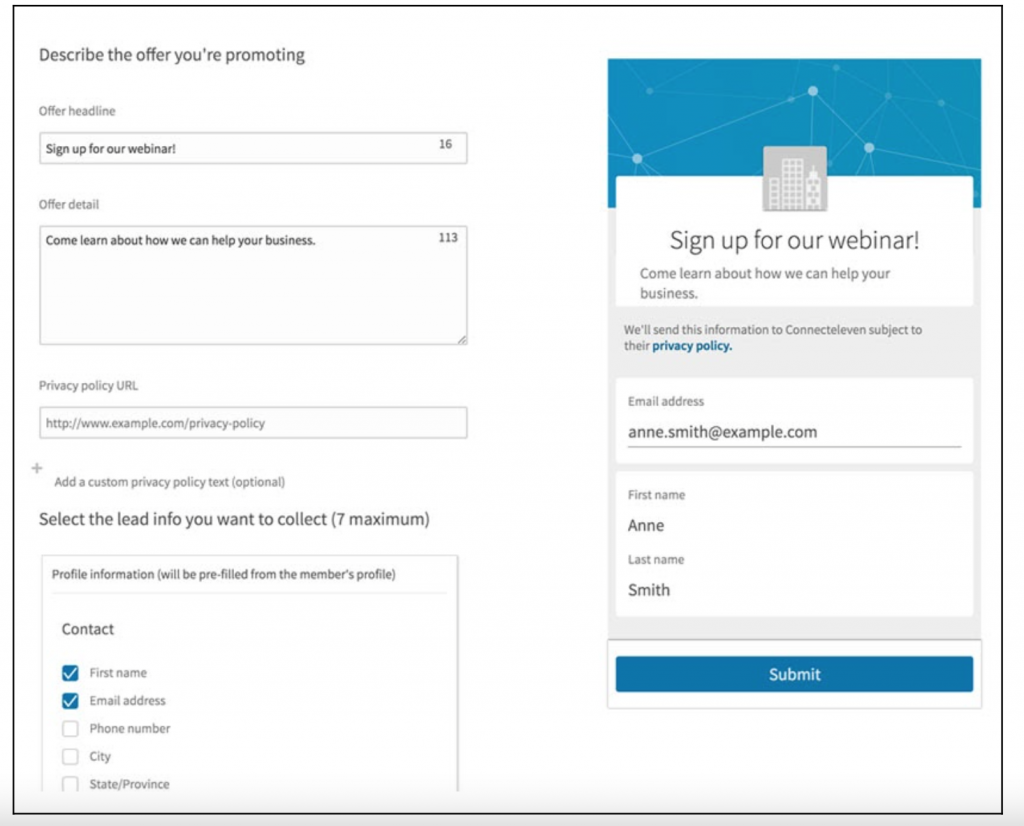 LinkedIn Lead Gen Forms Pros and Cons
Pros
As other inhouse tools it's fully integrated to LinkedIn, so it's completely safe and fast.
Cons
As with most LinkedIn paid features, LinkedIn Lead Gen Forms can be quite expensive.
12. MeetAlfred
Formerly known as MeetLeonard, MeetAlfred focuses on personalized communications and campaigns in LinkedIn. Specially good for social selling, MeetAlfred's most notable features include connection request automations, auto-view profiles, running email list campaigns, auto-messaging 1st connections, and personalised auto-messages. It has CRM functionality and allows you to send bulk messages. MeetAlfred also offers real-time analytics that allows you to assess how well your campaigns are doing and where you are having the most, and the least, success, giving you the opportunity to easily adjust your campaigns accordingly.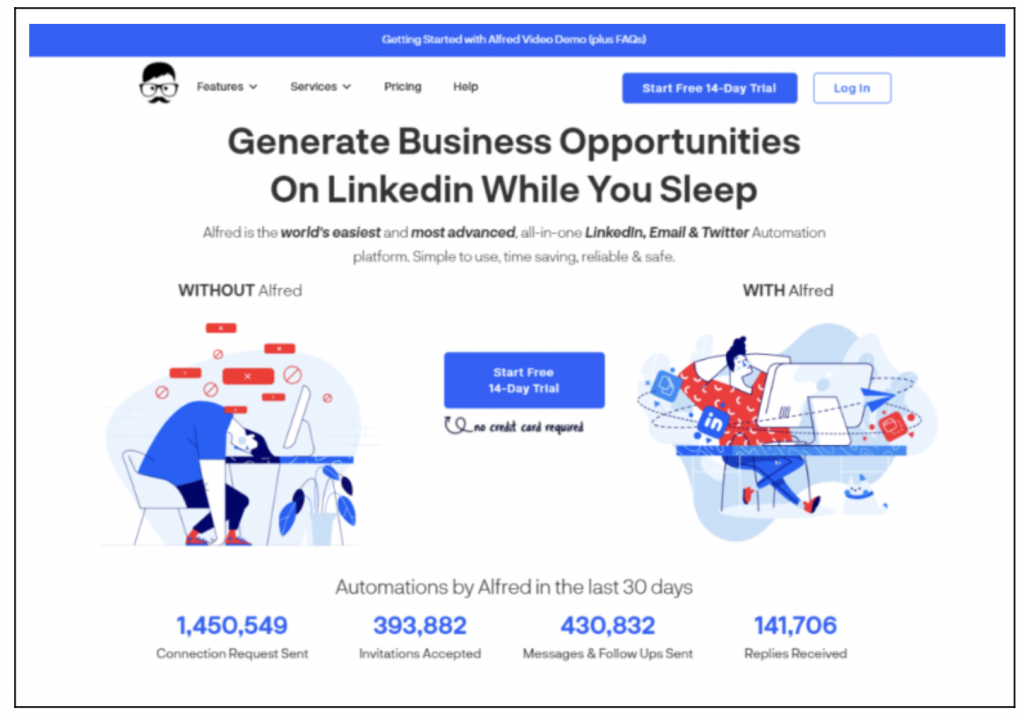 MeetAlfred Pros and Cons
Pros
Even though MeetAlfred is a chrome extension, it has built in features that automatically detect your LinkedIn membership and warns you about activity that might look suspicious to the platform.
Cons
Even with the safety warnings, it's easy to over use some of MeetAlfred's features and end up flagged. You have to be especially careful with the bulk-messages. Another downside to this tool is that it only accommodates one LinkedIn profile per subscription, no matter the plan. If you have multiple profiles the costs pile up.
13. Attach
A simple chrome extension tool, Attach provides very useful, and unique, insight. Through LinkedIn InMail you can share documents, links and other attachments with your connections, but how do you know if they are engaging with your content? Attach provides the answer. By allowing you to link all documents on your messages it shows you what actions the recipients are performing, how long it takes for them to open the documents, how many time they spend on it and even at what page of your document they close it. This way is easy to know who is interested in your content and who isn't and plan your steps accordingly.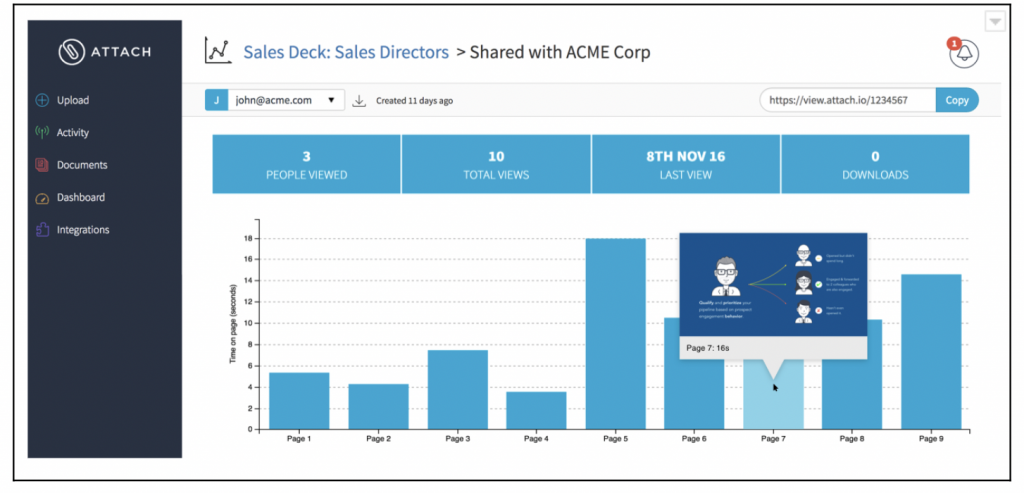 Attach Pros and Cons
Pros
Easy to install, easy to use, fast results. Attach also has integration with Google Docs, Dropbox, and such, giving a wide range of formats to work with.
Cons
Attach provides no integration to emails or ways of exporting your results. It also has no phone support or integration support.
14. Zopto
Zopto is a cloud based lead generator tool that provides filters such as location, company size, job title, and level of desired engagement. It also provides a dashboard with helpful information about your active campaigns that simplifies tracking your leads. Zopto works with LinkedIn Premium, and is best suited for people with a base understanding on how LinkedIn campaigns work, if that is not the case, you may have a hard time navigating the user interface.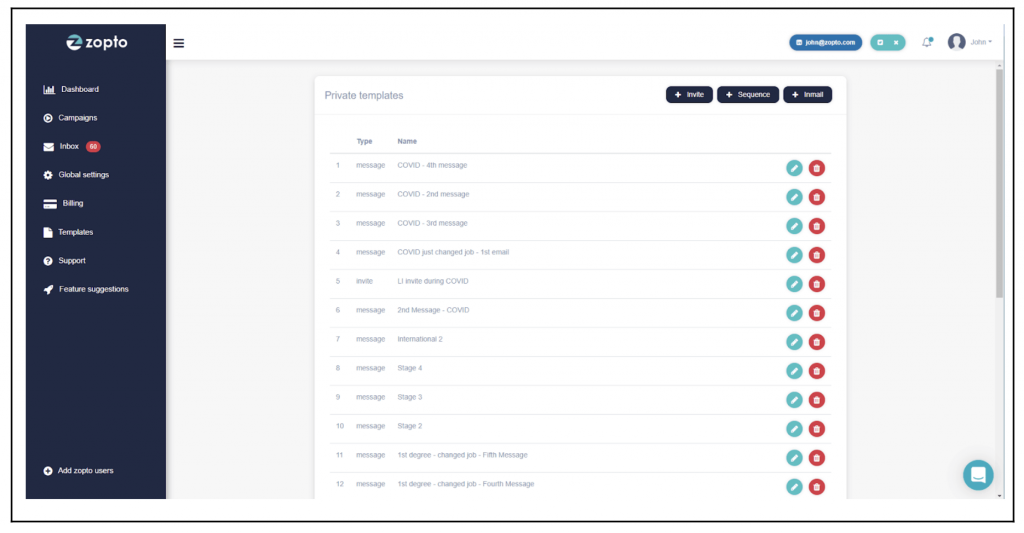 Zopto Pros and Cons
Pros
Zopto has well planned filters and options that can improve your lead generation greatly.
Cons
By adding Zopto's membership to a LinkedIn Premium account costs can be steep. It also has no automatic cancelation of campaigns should you choose to stop them. The interface can be difficult to work with, with not much guide as to where each feature is, which may lead to wasted time until you get the hang of it.
15. Dux-Soup
A web-based tool focused on optimization of LinkedIn use and communications, Dux-Soup provides features such as adding media to messages, usage of notes and tags, auto-sending or personalised messages, tracking your profile visits and CSV file extraction for easy use with CRM. Dux-Soup extracts info about the profiles you browse and allows you to set up campaigns easily. It works autonomously, all the while taking care not to overstep LinkedIn safety parameters.

Dux-Soup Pros and Cons
Pros
Dux-Soup is easy to use even for beginners, has an automatic fair use limit and a free plan that doesn't expire.
Cons
The User Interface could use some streamlining and the free plan has some heavy limitations. Also the Dux-Soup extension can slow browsing and LinkedIn loading times.
16. Octopus CRM
Octopus is a chrome extension tool that allows you to send bulk messages to 1st connections, automatically endorse skills on your contacts profiles, automatically visit profiles, send automated personalized connection requests to 2nd and 3rd level connections, keep and eye on your stats for easy performance evaluation, link campaigns for further personalization, and import and export CSV files for easy CRM integration.
You can take a look at how Octopus CRM compares to Salesloop here.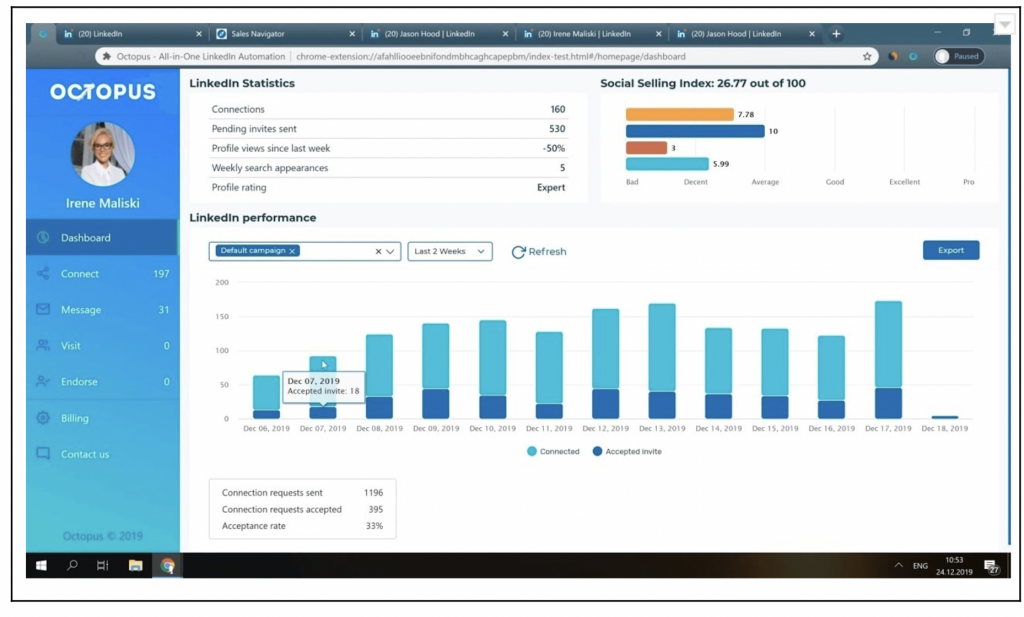 Octopus CRM Pros and Cons
Pros
Octopus CRM lets you integrate your campaigns with Google Doc, Zapier, Hubspot, and others.
Cons
It could use further filtering and list editing. Since it's a chrome extension, it only works while your browser is active.
17. Prospect.io
The final entry on this list is Prospect.io, an automation tool that offers email finder, list and sequence builder, deep analytics, multichannel campaigns, setting campaign targets, and automation of repetitive tasks. Probably the most noteworthy feature of Prospect.io is the Single Click Prospect! Button, which allows you to have all the contact details to be added to your library for further use. It also has a trickle down campaign customization, that can be great for some, but confusing or tedious for others.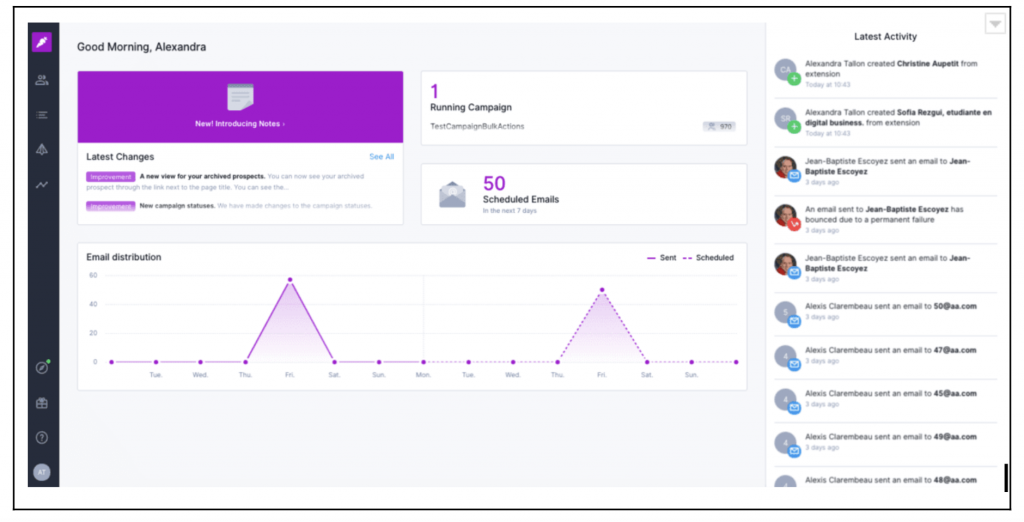 Prospect.io Pros and Cons
Pros
Prospect.io is integrated with Outlook/Gmail, Hubspot, Slack and Salesforce, among others. The Single Click Prospect! Button certainly makes data collection simple and fast.
Cons
For a tool with many uses, some key features are lacking, such as the fact that you can't easily duplicate and alter campaigns for A/B testing. The price is rather high too.
Wrapping up
LinkedIn automation tools will help you publish and share content more efficiently, lower the time you spend gathering contact's information and leads and maximize your lead conversion, and personalize your interactions on the platform. Overall, the right tool will save you time and effort while helping you grow.
It's important to keep in mind that LinkedIn doesn't look well on automation tools and data scrappers, having sued the company HiQ labs for its data scraper tool. A suit that got all the way to district court in San Francisco, where U.S. District Judge Edward Chen ruled that since the data that HiQ gathered from the platform was public, it had as much right as LinkedIn to benefit from it. That does not rule out LinkedIn from stating its own user policies agreements and safety policies, which are not friendly to third party software, so it is of the utmost importance to choose a safe and trustworthy automation tool, and use it wisely. Specially since no user on any social media wants to be spammed by marketing campaigns.
If you are looking to enter the world of LinkedIn automation safely and efficiently, contact us at hi@salesloop.io.
---