LinkedIn is the perfect way to generate a qualified sales lead list, and what's even better is that you can automate it. In doing so, saving you a lot of time and money to free you up on processors where human interaction is needed and get a better return.
Am I limited to the number of people I can link with?
We can all agree that LinkedIn is a great platform enabling us to comment on posts and groups, giving us the opportunity to position ourselves as thought leaders in our chosen industry. In terms of security, it's great to know that there are no major data breaches with them as they've really robust firewalls.
In addition to all of these, it's also a great resource for recruiters and job hunters. Fun fact, a study found that 122 million people received an interview through LinkedIn, with 35.5 million having been hired by a person they connected with on the site. One good LinkedIn stat for recruiters is that employees sourced through the site are 40% less likely to leave the company within the first 6 months.
LinkedIn, as with all large content creating websites, has access to your data, and their business model wouldn't work without us increasing their network and enabling them to add more data onto their site each and every day. They then turn around and try and charge us a fee to access our network data for a recurring monthly fee, which is a bit rich.
We understand that LinkedIn needs to uphold a certain amount of control, but we also believe that you should have the right to get access to the data associated with your account and be allowed to make your data work harder for you.
If you're looking to see how you can make the numbers work in your favour the following takeaways will help.
How does LinkedIn think?
LinkedIn ultimately is a money-making machine, they want you to create an account linking with all of your contacts, refer new contacts, add content, advertise jobs and ultimately become a paid user. The more we give them the more they will reward us with greater transparency and access to our information.
When it comes to connection requests the older your account, the more contacts you have, coupled with the amount of time you spend on the site is going to be higher than a newbie with no connections, no companies, no picture, no groups and no skills.
We've drawn up a list of factors that are going to have an impact on your own personal connection rate limits:
How many comments and likes have you given?
How many articles and publications have you written?
How long are you spending on the site each day?
How many connections and followers do you have?
Do you have a superstar profile, or are there still some areas of your profile that need your attention?
When did you create your account?
Do you have a paid subscription?
How many messages are you pushing out each day?
Based on all these variables and testing over a huge number of accounts and campaigns, we've put together a comprehensive extraction rate guide below. (You're welcome!)
Extraction Rate Guide: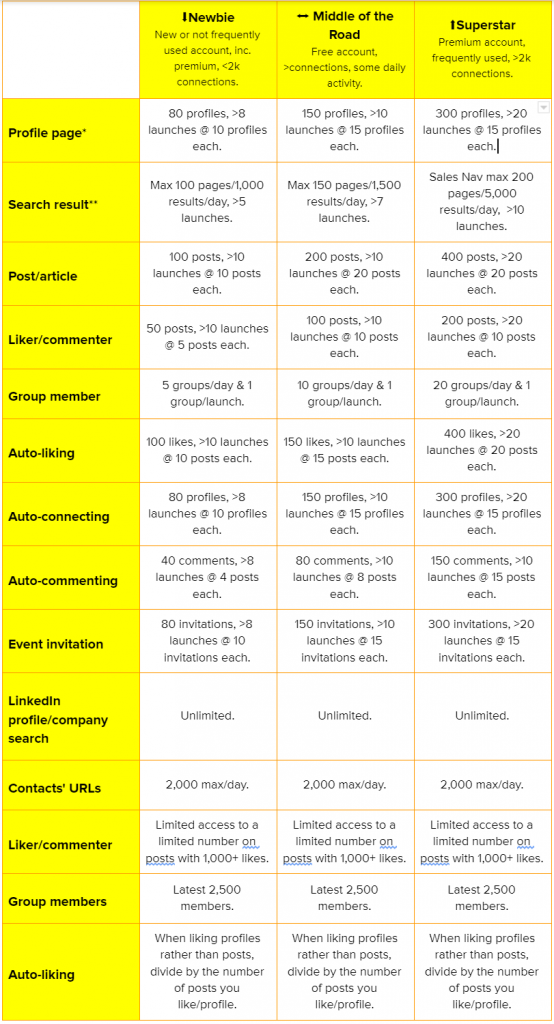 * Any time you visit a company, profile, school or job page.** LinkedIn searches a max. of 100 pages. You can scrape <1,000 with a freemium account. LinkedIn Sales Navigator displays 25 results/page = 2,500 max. To get every result, make specific searches and scrape each batch of results separately.
To sum up.
As we mentioned in our post around using LinkedIn as part of your marketing process, less is sometimes more.
Yes, you can scrape a lot of data, however, you have to consider if you're able to respond to them all, and if you can't is that going to impact your brand and reputation in the process.
If you follow a few simple rules, you can swing the odds in your favour:
Take time to interact with each new contact, and make a lasting first impression.
Only choose contacts that fit your marketing demographic.
By all means, have templates but make sure you add an element of personalisation.
Keep in mind:
"Automation may be a good thing, but don't forget that it began with Frankenstein."

Anonymous
---