Linkedin automation tools were a novelty five years ago: there were only a handful of apps, and only select entrepreneurs and growth hackers knew that they could be used to scale their outreach efforts more effectively than cold emailing.
This is no longer the case. Many new apps have emerged, and the market has become crowded with tools offering similar functionality, making it confusing to navigate and understand the difference between each vendor.
In this guide, we'll help you cut through the noise by comparing 4 of the most popular LinkedIn automation tools based on pros, cons, key features, and pricing.
If you're looking for a cloud-based tool that you can evaluate right now, without putting your profile at risk and without putting down your credit card details – check out Salesloop, the only LinkedIn automation tool that lets you focus your LinkedIn outreach on warm leads.
About the Comparison: Why You Should Trust this Guide
There's a lot of bad information out there, and we have our own horse in this race. That's why we wrote this guide based strictly on neutral, publicly-available information, including
Authoritative review websites that don't live off of affiliate marketing, such as G2
The websites of the vendors in questions (for pricing and features)
Youtube videos and product documentation
We also realize that different buyers have different requirements when it comes to account security, personalization, and integrations. Our main goal here is to help buyers understand which tool could be a good fit for their particular business scenario.
Bird's Eye Comparison of Linkedin Automation Tools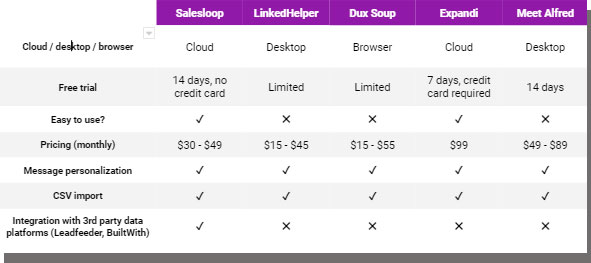 LinkedHelper
LinkedHelper has been around for a long time, and has a large and dedicated user base. However, while this tool still offers a lot of functionality, in recent years it has begun to fall out of favor with prospects due to its complexity and desktop focus compared to more intuitive cloud-based tools.
You can see this trend reflected in Google searches for the brand, which seem to be on the downturn: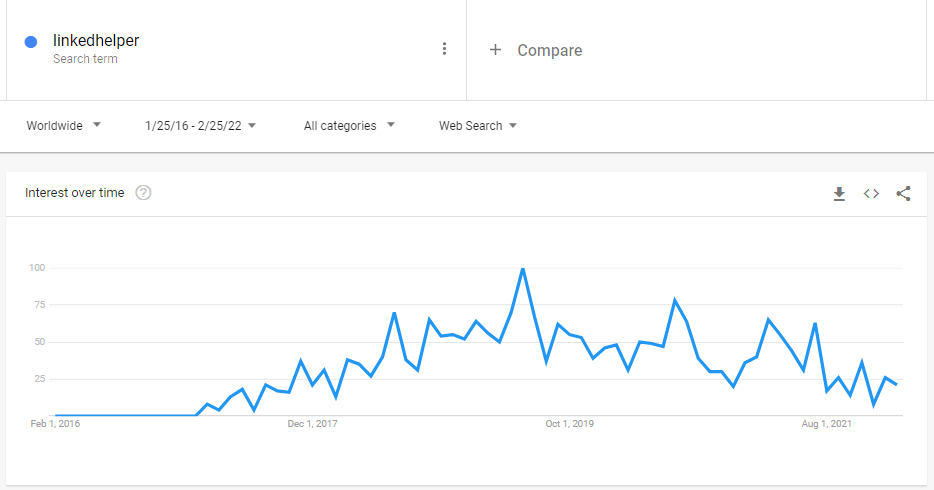 Pros: What users like about LinkedHelper
Robust set of features to support sales, marketing, and recruitment.
Modestly priced – $15 version offers most of the core functionality.
Support for personalization.
Ability to build and upload lists.
Cons: What users dislike about LinkedHelper
Desktop app that needs to be installed on local machine. Desktop and browser-based tools are often considered riskier in terms of LinkedIn's policies.
Very complex user interface leaves many stumped.
3rd party integrations require are through webhooks and need to be configured using Zapier or Integromat.
Pricing
LinkedHelper has three pricing plans:
Free – trial version with limited functionality
Standard – $15 supports up to 20 connections a day and most functionality
Pro – $45 claims to support 'unlimited' weekly invitations
Dux-Soup
Dux Soup has been around since 2019 and is fairly popular, based on its online footprint. It's mostly a tool for sales professionals and offers various CRM integrations, along with other lead management and message sequencing functions. However, it is browser-based, which means you have to associate the app with your Google account, and have it constantly open in Chrome in order to keep sending messages.
Pros: What users like about Dux-Soup
Specific targeting options
Integration with CRM systems
Various options for message formatting and personalization
Cons: What users dislike about Dux-Soup
Browser-based – the company insists this is fine, but multiple users on review sites report their LinkedIn account got banned after using the tool
Slows down browsing on LinkedIn
Difficult to customize and ensure the same person isn't getting messaged twice
Free trial offers almost no functionality
Pricing
Dux-Soup offers different pricing plans for teams, individuals, and agencies.
For individuals, pricing is per connected LinkedIn account:
Starter is a free program but offers basically no functionality (according to the vendor's website), and so is likely more of an interactive demo
Pro Dux is billed at $15 and offers basic messaging, connection and CSV import functionality
Turbo Dux costs $55 and offers additional functionality such as drip campaigns and funnel management
Team and agency accounts enable you to get discounted pricing when purchasing multiple seats.
Expandi
Expandi is a relative newcomer, with the first online reviews appearing in late 2020. It is a cloud-based tool and is thus considered safer than the alternatives – however, it is also much more expensive and requires credit card details to be entered for the (short) free trial.
Pros: What users like about Expandi
Cloud-based, making it safer than alternatives
Users find the interface more intuitive
Cons: What users dislike about Expandi
2-3 times more expensive than alternatives
Limited functionality outside of sending messages
Doesn't natively integrate with 3rd party platforms
Several users complain about bugs and problems with customer support
Short free trial
Pricing
Expandi has one pricing plan – it costs $99 per seat, per month. While some might appreciate this relative simplicity, this makes Expandi 2-4 times more expensive than other tools.
Meet Alfred
Meet Alfred offers a solution for automating outreach across LinkedIn, Twitter and email. While it touts a sleek website with testimonials, objective information about this company is very hard to find – there are no reviews on G2 and the Trustpilot page contains a warning about fake reviews: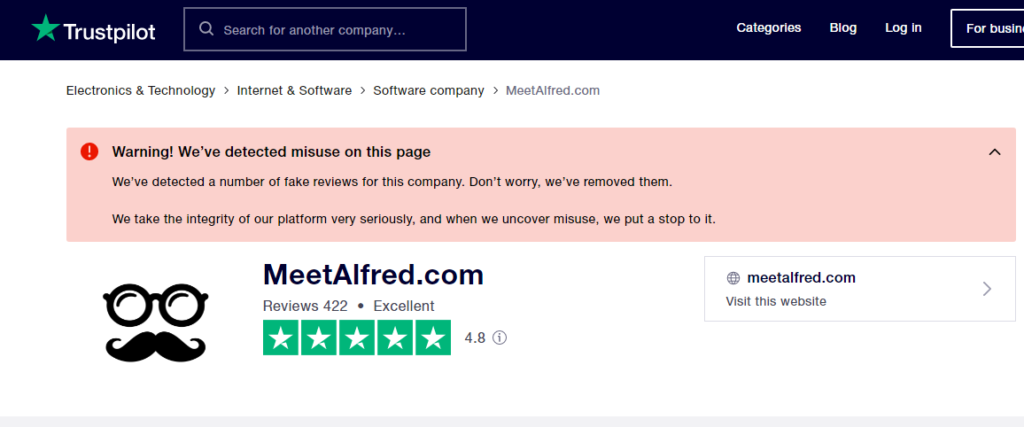 This could indicate that the company's product has not seen wide adoption. Here is the information we did manage to gather online:
Pros: What users like about Meet Alfred
Offers automation across multiple platforms, including email and LinkedIn
Cons: What users dislike about Meet Alfred
On the expensive side
Requires desktop software to be installed
Customers are complaining of poor customer service, leading to overall poor review scores
Some customers complain that the software doesn't work as promised
Pricing
Meet Alfred is priced at either $49 for individual users or $89 for Sales Navigator users and teams
Why Salesloop is Better
There are many automation tools that will let you blindly spam connection requests with canned 'follow ups' that people can smell a mile away – but only one tool offers you the integrations and personalization features you need to reach a high intent audience at the moment of decision.
Check out the FREE trial of Salesloop today to start reaching better prospects on LinkedIn.
---